Fuller & Scott Price List
With effect from 1 May 2021
Version 2
A practical guide: our funeral services, options and prices
Notes
For the first time since the start of the COVID-19 pandemic our funeral services are beginning to return to near normal as the restrictions on what we can offer have nearly been fully lifted.
We would still encourage you to arrange for a date that is in around 7–14 days from death occurring where possible.
Aside from the COVID-secure policies of the venues we work with, there are no restrictions on who can attend a funeral or the number who can attend. This includes services provided in our funeral homes, the ceremony itself as well as the reception or 'wake' after the funeral.
It is our policy to require a deposit payment which is made up of the disbursement costs (see below for detail) and 50% of our own fee, to be paid at least 48 hours in advance of the funeral. Full details of our terms and conditions of business can be found here: www.cpjfield.co.uk/terms-and-conditions
Our professional service charge

£1,229

Guidance, expertise, care and administrative support from our team of trained funeral professionals (available 24 hours a day, 365 days a year).

Meeting to make funeral arrangements over the phone, by video call or in person.*

Some of our locations are smaller than others, so do call ahead to check whether it's appropriate for more than two or three people to attend the arrangement meeting.

Liaising with celebrant (religious or non-religious) who is to lead the funeral ceremony.

The celebrant will also make contact with you to agree a meeting to discuss the form and content of the funeral ceremony.

Advice on registering the death with the registrar over the phone or registering the death for you (where possible).

Advice and assistance in completing burial or cremation applications and digital submission of completed forms to the Burial or Cremation Authority as relevant.

Liaising with Hospitals, Doctors or HM Coroner as required by the circumstances.

Booking the service time with the venue, organising/ordering music and submitting other

items for the funeral (i.e. at a crematorium this might include a video tribute, request for live streaming service, photos for display screens and so on).

A condolences page on our website with an obituary for the person who has died where friends and family may post messages of comfort and support. In memory donations to a charity of your choice can also be left here.

Receiving and listing charitable donations and forwarding monies collected to chosen charity.

You can decide whether to publicise the date, time and location on our website for you to share with others who may wish to attend.

Placing a notice of death in local and national newspapers on your behalf at your cost.

Liaising with florists for the delivery of tributes on the day of the funeral ceremony. This can include purchasing flowers on your behalf.

Attendance of a funeral director to conduct the funeral and sufficient funeral service team members at the funeral venue for the service (whether attending a graveside or carrying into a crematorium chapel for most funerals this will typically be four people carrying the coffin on their shoulders but this may vary according to the situation).

Provision of written estimates and final accounts detailing all charges relating to the funeral as well as use of the client portal on our website for current estimates of costs and payment of deposits due.

Collect the ashes from the crematorium (as applicable) and return to the funeral home for storage of up to three months until further arrangements can be made.

Placing a temporary maker on the grave (as applicable) after the ceremony has been completed.

Provision of advice and support following the funeral.

Care, preparation and presentation of the person who died

£697

Provision of mortuary care by experienced and qualified members of our funeral service team from arrival at our mortuary facility for up to 14 days after arrival.

Wash and dress the deceased person in clothes provided to us or in the selected robe or gown.

Embalming is provided only with express consent, and where the embalmer is an employee of CPJ Field & Co. there is no charge for their services.

Facilitating a visit to the funeral home to see the deceased person in our visiting room.

Collection of the deceased person

£375

Attendance of our funeral service team (usually a minimum of two people although this may vary according to the situation or circumstances) to prepare for the deceased person to be transferred from the place of death.

Conveyance of the person who died to a mortuary facility at a nearby CPJ Field funeral home.

For collections from locations that are more than 15 miles from our nearest funeral home additional mileage charges will apply.

The provision of a hearse from our funeral home to the cemetery or crematorium (via a route of your choosing) **

£533

For funerals held at a venue that is more than 20 miles from our funeral home additional mileage charges will apply

Total funeral charge (excluding coffin)

£2,834
Notes
* If a close contact of yours tests positive for COVID-19 or you're experiencing symptoms of COVID-19 you should take a PCR test (at a local testing centre) which gives a negative result before visiting our funeral home.
** Alternative hearses (horse drawn, vintage car, motorcycle, lorry etc) are still available on request.
*** Where limousines are provided for a funeral ceremony followed by a committal 2 hours or more
after the start an additional charge of £258.
NB – Where a double funeral is arranged only 50% of our professional fee will be charged for the second deceased person.
Where the balance of the funeral account is paid direct by a bank or solicitor we will refund the deposit (to the individual who paid it) and no surcharge will be applied to the account.
Additional Fees
Embalming surcharge (where COVID-19 is suspected or known to be present provided by an embalmer not directly employed by CPJ Field & Co. Ltd)

£202

Daily charge for continuing care for the person who died beyond 14 days

£10

The provision of a limousine to transport one or two mourners to the funeral and back again

£274

For funerals held at a venue that is more than 20 miles from our funeral home additional mileage charges will apply.

The use of our service chapel (where available) for a ceremony prior to taking the coffin to be buried or cremated

£170

Design and print service sheets for the ceremony

| | | | |
| --- | --- | --- | --- |
| Copies | 50 | 100 | 150 |
| 4 pages | £116 | £159 | £202 |
| 8 pages | £151 | £207 | £267 |

Surcharge for a funeral ceremony arranged to take place at the weekend or on a bank holiday

£624

Arrange for a new stone memorial following a funeral service or interment of ashes

£POA

Remove and replace a memorial stone to allow for a further burial

from £250

Arrange for an existing full grave memorial (e.g. head stone and kerb set) to be removed to allow for a further interment and subsequently to be replaced.

from £680

Provide a wooden cross to temporarily mark a grave

£85

Monthly storage fee for ashes beyond the 3 months allowed for in our professional fee

£25

Additional mileage (price per mile) for travel out of the area

£1.75

To transport a deceased client by private ambulance between our mortuary and another location prior to the funeral

£346

Collection and delivery of ashes

£75

Catering for a reception after the funeral ceremony

£POA

Supplementary charge for arranging a funeral of particular complexity or unusual detail

£371

Take the coffin home, to a place of worship or other venue the day before the funeral ceremony with hearse, funeral director and sufficient funeral service team members

£626

Take the coffin into the venue (i.e., church) for the funeral more than 2 hours prior to the ceremony

£440

Arrange inspection of cremation forms with the Medical Referee at Crematorium

£POA

Surcharge for funerals where the committal (burial or cremation) is more than two hours after a separate ceremony***

£551
Coffins
A sample of bespoke coffins is available below: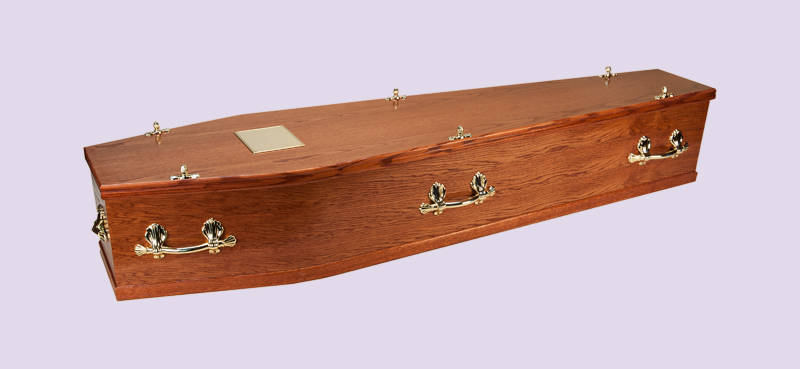 The Islay
A real oak veneered coffin with flat sides and flat lid fitted with six electroplated brass effect handles and plate.
Available in a variety of colour finishes.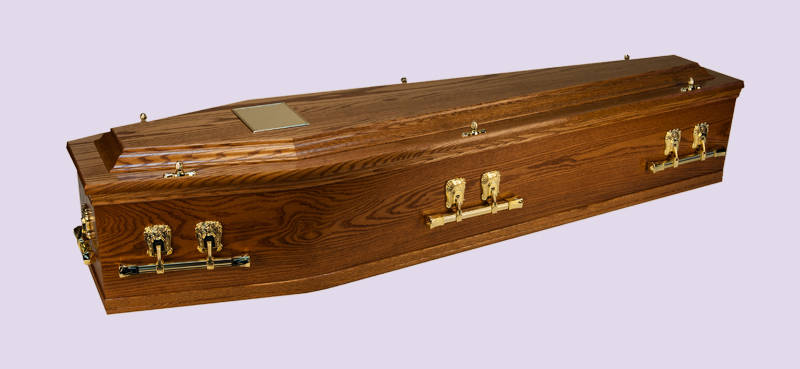 The Ascot
A solid oak coffin with simple plain sides, a raised lid and deep moulds to the base. This coffin is polished to a high gloss finish and furnished with six brass coloured bar handles on the sides and one each on both the head and the foot ends of the coffin.
Available in a variety of colour finishes.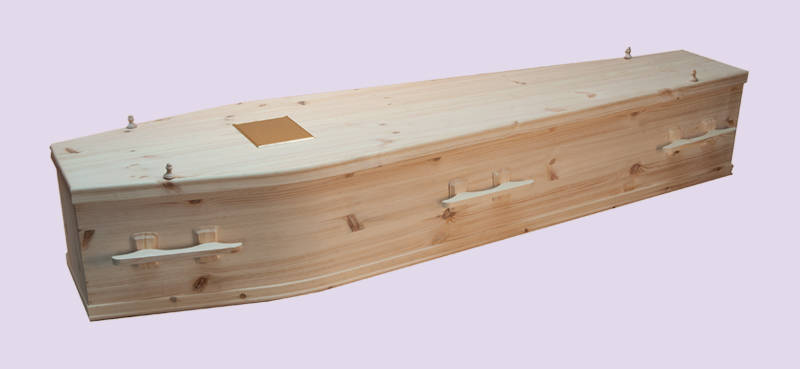 The Brighton
A solid European pine coffin with plain sides and flat lid. Finished with a water-based natural polish for a matt appearance.
Furnished with six solid pine wood handles.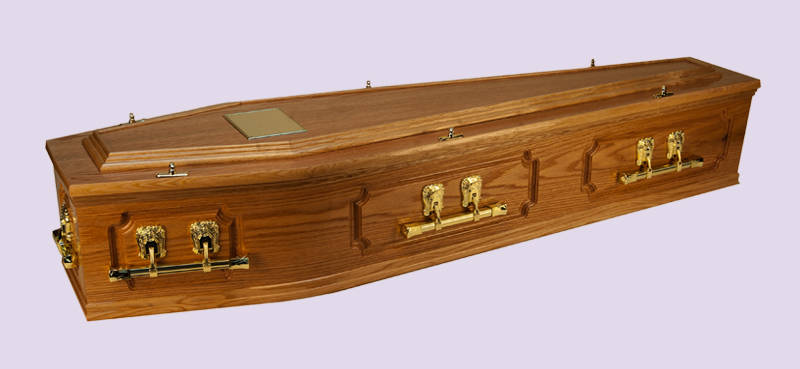 The Barnard
A solid oak coffin with feature deep panels to the sides and ends. This coffin has a high raised lid and is polished to a rich gloss finish. Fitted with six brass coloured bar handles on the side and one on both the head and the foot ends of the coffin.
Available in a variety of colour finishes.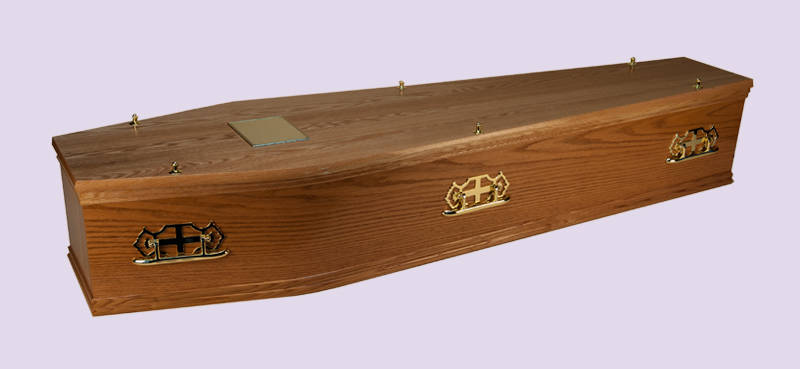 The Oakham
A solid oak coffin with simple plain sides and flat lid. Fitted with deep solid wood moulds to the base and lid.
This coffin is polished to a high gloss finish.
Our wider range of coffins and caskets is available to view here
It is our policy to ask for all of the disbursements (see below for detail) and 50% our fee for a no-ceremony funeral to be paid at least 48 hours before the the service is provided.
Direct cremation service
Liberty Cremations by CPJ Field & Co. – Direct Cremation service

£1,445 (including third party fees)

This service is a lower cost no-fuss service we provide on a regional basis. It is managed by a central call centre that makes arrangements for the collection of the deceased person and the return of the ashes after the deceased person has been cremated.
Funeral with no ceremony
Funeral with no ceremony from your local funeral home (Similar to Direct Cremation)

£2,136 (excluding cremation fees)

This service is provided by our funeral home team and includes the same levels of locally based service and support to you as well as care for the deceased person as for all funeral services provided from our funeral homes.

Arrangements made over the phone, by video call or in person at your local funeral home or your own home.
Organised within 7–10 days of death occurring (registration and paperwork permitting).
Collection of the deceased person from the place of death to our local mortuary (for the duration of the coronavirus pandemic only – should the need arise we may use alternative temporary mortuary provision for a short period).
Care, preparation and presentation of the person who died.
Wash and dress the deceased person in a suitable gown.
Facilitating a visit to the funeral home to see the deceased person in our visitation room.
Provision of mortuary care by experienced and qualified members of our funeral service team from arrival at our mortuary facility for up to 14 days after arrival. (Where delays in completing statutory paperwork result in stays longer than 14 days in our mortuary and additional £20 per day will be charged.)
Advice on registering the death with the registrar over the phone or registering the death for you.
Advice and assistance in completing burial or cremation applications and submission to the Burial or Cremation Authority in digital form.
Liaising with Hospitals, Doctors or HM Coroner as required by the circumstances.
A condolence page on our website with an obituary for the person who has died where friends and family may post messages of comfort and support. In memory donations to a charity of your choice can also be left here.
Transport for the coffin to the cemetery or crematorium.
Attendance of a funeral director to conduct the funeral and sufficient funeral service team members at the graveside or crematorium chapel before the service (for a cremation this will typically be two people using a wheeled bier to convey the coffin).
You will be notified of when the cremation/burial is to take place. It is not intended that any mourners attend the venue at the time the coffin is delivered. The coffin will be placed in the grave or on the catafalque (as appropriate) and our colleagues will leave.
If we are asked to collect the ashes following the funeral we will hold them for you securely and safely for three months without charge. After three months a charge of £5 per week will be made for that continued service.

A no-ceremony does not include:


Embalming.
Dressing the deceased person in their own clothes.
Any ceremony immediately before or after the coffin is presented for burial or cremation.
The attendance of a celebrant (religious or non-religious) at the place of committal.
Choice of coffin.
Choice of date and time for the cremation to happen.
After a direct cremation or a no-ceremony funeral. You may consider organising a celebration of life ceremony or a service of remembrance and thanksgiving at a later date. There will be no ceremony on the day the service is provided.
Whether you choose a Liberty Cremation or a local no-ceremony funeral we can help you to organise ashes burial or scattering ceremony following a direct cremation or no-ceremony funeral.
When a local no-ceremony funeral is chosen and you asked us to collect the ashes from the crematorium on your behalf then we will contact you to let you know they are back with us. We will take that opportunity
to share with you information on what to do next.
Please see our Continuing to Remember brochure for a wide range of ideas of what you might do with the ashes after a cremation.
With your permission we will make a diary note to contact you three months after the funeral to offer our assistance in arranging such a ceremony or service.
We offer a significant range of keepsakes and memorial jewellery that incorporate or store ashes.
Third party fees
These consist of monies paid out by us on your behalf to secure the services of others in order to carry out the funeral in accordance with your wishes. These are often referred to as 'disbursements'.
Burial authority fees
Cremation authority fees
Churchyard burial fees
Celebrant (religious or non-religious) fees
Doctor's fees
Please consider settling your account by BACS or by credit card online via our website.
Downloads
You can find a more detailed version of this page's content in our printable booklet:
PDF Booklet
Links
If you're struggling, you may find the following websites offer useful resources, advice and support groups for coping with grief and loss.