Cooper & Son Funeral Directors Uckfield
Servicing areas: Uckfield, Framfield, Maresfield, Isfield, Five Ash Down, Buxted, Blackboys, Halland, Fletching, Piltdown and Nutley.
Address
Rose Cottage
11 New Town
Uckfield
East Sussex
TN22 5DL
How to get here
Loading reviews…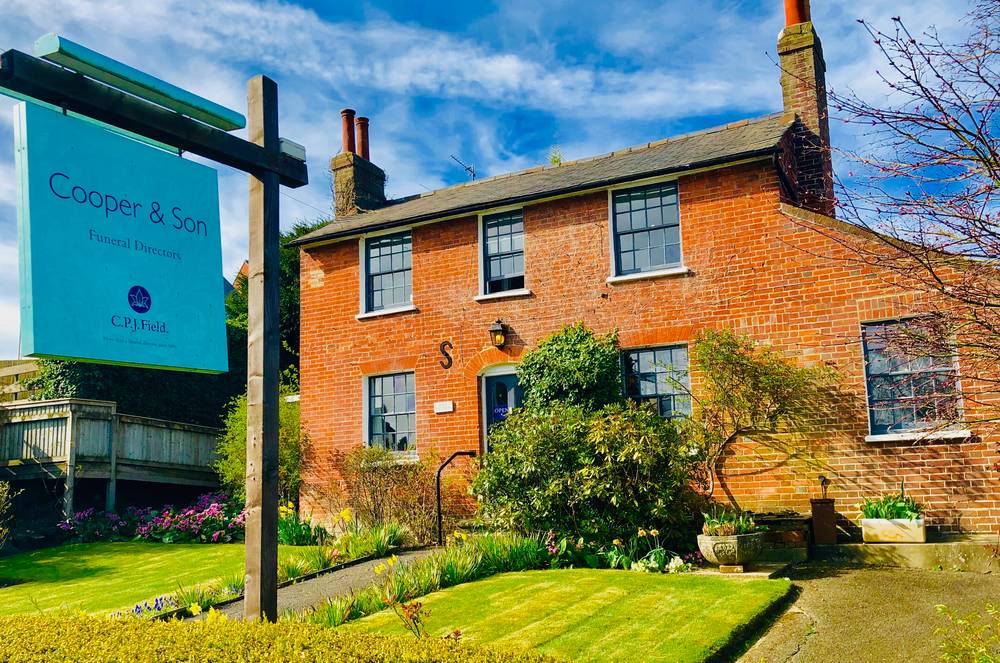 About Cooper & Son Uckfield
Cooper and Son Uckfield funeral directors is a picturesque and welcoming funeral home that operates from Rose Cottage.
Founded in 1710, our Uckfield funeral directors includes a lovely chapel of rest with a beautiful stained-glass window which features in the visitor's room.
For this very reason, Rose cottage was recently granted a Sussex Heritage Trust Award.
Funeral Director Emma Tipler works at our Uckfield funeral home alongside Funeral Arranger Administrators Deborah Lynam and Kerry Brown.
This funeral home was the proud sponsor of the Uckfield FM Community Awards 2019, sponsoring carer of the year and volunteer of the year awards.
Our team
Emma Tipler
Funeral Director, Uckfield and Heathfield
Deborah Lynam
Funeral Arranger and Administrator, Uckfield
Kerry Brown
Funeral Arranger and Administrator, Uckfield
Our services
Funerals
Cremations
Funeral transport
Funeral flowers
A large garden to the rear means the team can provide space for a full funeral service, wake or community event.
More information about additional services we provide at our funeral directors in Uckfield can be found here.
How to get to Cooper & Son Uckfield
Located on New Town road on the corner of Old Timbers Lane in Uckfield, Cooper & Son's Rose Cottage is set within a large, beautiful garden.
There is a private reasonably sized car park to the side of our Uckfield funeral home.
The nearest train station is Uckfield, which is just a short 5 minute walk away.
The nearest bus stop services the 28 Regency Route, 29 Regency Route, 29B Regency Route and buses 54 and 318. From here, the funeral home is a 1 minute walk.
Funeral home opening hours: 24/7
In-person appointments: Monday – Friday, 9am - 5pm.
Business Policies
More information on our Business terms and conditions and Charitable donations can be found below.