Cancelling leisure & entertainment accounts after death
Knowing what to do following the death of your loved one can be overwhelming. Aside from the immediate, practical considerations such as arranging a funeral, and obtaining a death certificate, there are other, less obvious things you might not have given as much thought to during this upsetting time.
These days, much of our time can be spent online including how we spend our leisure time and consume entertainment. With this brings a new set of considerations following a loved one's death. This blog post will detail how to cancel their leisure and entertainment accounts, including Netflix, eBay and Xbox Live.
Amazon Prime
If you have access to the email address associated with your dead loved one's Amazon Prime account, then you can email Amazon Customer Services from their email and request the account is closed. Alternatively, if you do not have access to their email, the Amazon customer service number in the UK is 0800 279 7234. The customer service operator should be able to walk you through the process of closing their account.
It's worth bearing in mind that if your loved one owned a Kindle or had content stored in an Amazon Drive and/or Prime Photos account, and you have the account closed, you'll no longer have access to any of this content or the subscriptions associated with this account. Once the account is closed, the Amazon Drive and/or Prime Photos content will be deleted and cannot be restored.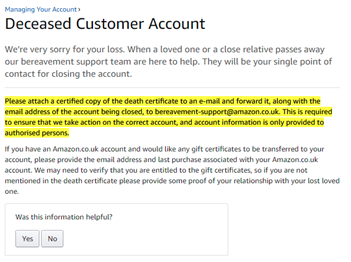 Netflix
If you are yet to cancel your loved one's bank accounts, you will need to access the Netflix account in order to cancel unnecessary, recurring payments. If you know the email address associated with your loved one's Netflix account, you can simply cancel this recurring payment via the Netflix admin settings. If you can't gain access to the email or account information, contact their customer support at The Netflix Help Centre and explain what has happened. It is possible to speak with someone either via a0808 196 5391 or though the live chat option. The customer support operator will ask for a method to verify your identity and the deceased person's identity and cancel it for you.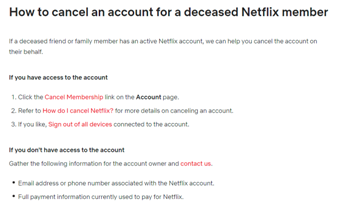 PayPal

PayPal customer service request the following documents from you in order to process closing the account of someone who has died.
Once you have the below documents to hand, you will be required to send an email to Bereavement@paypal.co.uk. Once PayPal receive and review the documents, they will advise if further requirements are needed. Additional information about closing someone's account can be found here.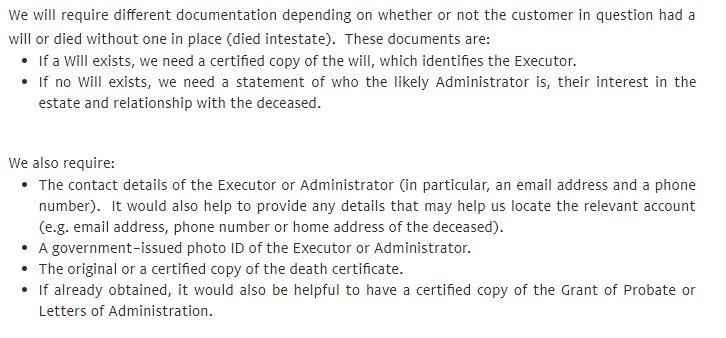 eBay
The eBay website presents you with the option to call or chat online with a representative when it comes to closing the account of someone who has died. As you can see in the below screenshots with a chat operator, you will be required to provide some documentation as proof of death. In order to submit the documents via the document uploader, you will require your own eBay account login. Alternatively, you can communicate with staff about this process via email: customerhelp_uk@ebay.com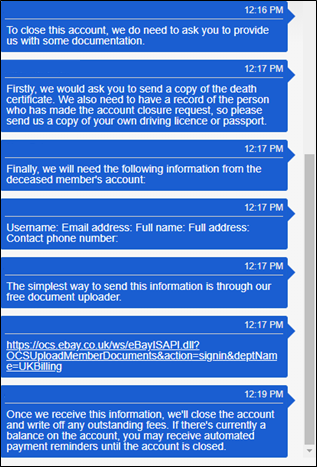 Spotify
Spotify will not delete the account of someone who has died unless you contact them and request they do so. To cancel the account of your loved one, you need to have the login account details. Alternatively, if you do not have access to their login account information, you can get in touch with Spotify who should be able to help with closing the account. For additional information about closing someone's account click here.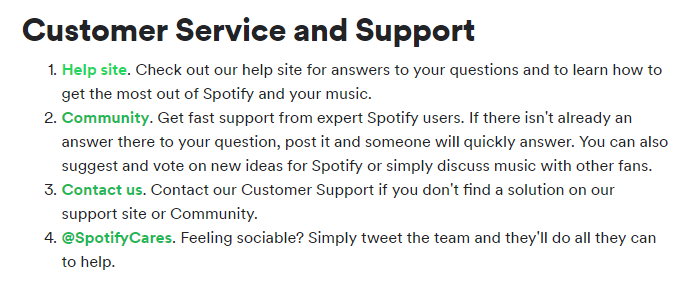 Apple ID/ iCloud
Any content associated with a loved one's Apple ID, i.e. iCloud content, will be terminated upon death. Any apps and media also associated with the account will no longer be accessible. Apple support are able to help with the process of closing an Apple ID. The information required to do this is the persons Apple ID, email, password and death certificate. It is possible to talk to a representative via phone, chat or email.
For more information on requesting deletion of a deceased person's Apple ID, see here.

Xbox Live
Xbox Live is a subscription service associated with a Microsoft account. Simply closing a Microsoft account does not cancel any of the subscriptions associated with it. Both the act of closing a Microsoft account/cancelling associated subscriptions requires a login (email address and password). Following the closure of an Xbox account, after 60 days, all downloaded content, games and applications will be lost. Whilst Microsoft have a 'Next of Kin' process this only supports their email accounts, they do not provide support for Xbox Live.
Discover more information below about how to organise or close the following, associated accounts when someone has died:
The above is for your guidance only. Your relationship to the person who has died, i.e. whether you are married or not, might impact on whether the above advice is applicable to you.
You should always seek legal advice following the death of someone close to you.