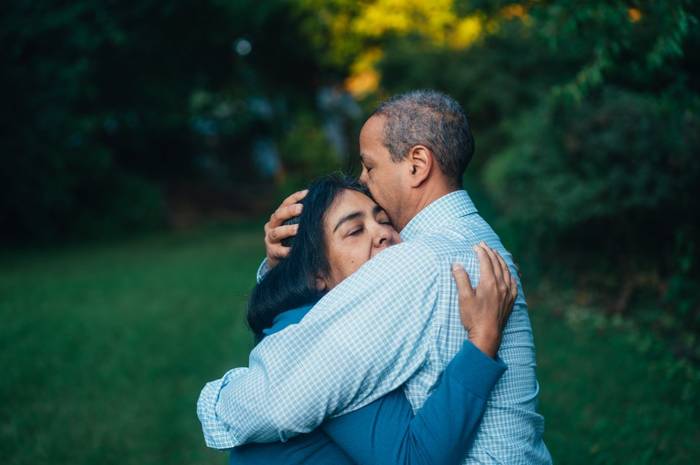 It can be tempting to shy away from conversations about death and funerals. In fact, it's entirely understandable as to why you might want to avoid talking about it altogether. After all, it forces us to think about our own mortality and that of the people we love.
For some people, however, they are forced to confront this topic much sooner than they might expect. Indeed, our recent survey of bereaved people revealed that 1/5 millennials have planned their own funeral following the death of a loved one.

Whilst it can be daunting, starting the conversation about death and funerals can be beneficial for both you and your loved ones. We've previously discussed the need to tackle the taboo surrounding this topic and with National Grief Awareness day fast approaching, we wanted to highlight once more why we should be talking about these sensitive matters. This article also provides guidance for opening a dialogue with your loved ones about your end of life wishes.

It can help prepare your loved ones
Talking about death and your funeral wishes can help your loved ones feel a bit more prepared for when that day does come. Indeed, such conversations offer the opportunity to openly share any worries, fears or wishes your loved ones may have about death. It might also prompt discussions about wills and settling finances, as well as medical decisions such as whether you wish to donate your organs. Being prepared takes some of the panic and confusion out of a deeply sensitive time and gives you or your loved ones space and time to grieve and then heal.
Those who have recently experienced bereavement know the difference that understanding funeral wishes can make to the grieving process. We spoke to two young people who feel passionately about the need to talk openly about death and have taken steps to protect their friends and family by sharing their own funeral wishes.
Charlotte Underwood's father died when she was 18. Now 23 years old, the death of her father prompted Charlotte to talk openly to her husband about her own funeral wishes. "I sat my husband down and told him exactly what I wanted and what to do if I died first. I then asked him to tell me his wishes. I told him not to get into debt over the funeral if it happened, keep it cheap and if possible, bury me near my dad. Talking about death is scary but maybe not talking about it is why we are scared".

Arabella Halfhide, whose mother died from cancer in 2009, was grateful that her mum organised her entire funeral beforehand. Arabella, aged 26, says, "Looking back, the fact that she organised the whole thing gave me a real sense of peace, because I knew it was exactly what she wanted. It was actually a really tearfully happy/sad (all the emotions rolled into one) day because her personality shone out. She made it a celebration of life, which I think is so so important".
You can ease the burden on those left behind
Grief can feel overwhelmingly painful. Add to that the stress of organising and paying for a funeral and some people can struggle to cope. Without an open conversation about your funeral wishes, family members are left to speculate as to what kind of service you'd like for your send-off. For instance, does your family know whether you'd like a religious or non-religious ceremony? What music or readings would you prefer?

Arranging a funeral to your exact wishes before you die, and discussing this with family and friends, can offer some comfort to your family during an already upsetting time and ease the burden of making any decisions.
It's healthy to talk about death
Death, just like birth, is natural and a significant part of life. As with anything momentous that we experience, we tend to talk about it with our loved ones so that we can fully digest and process what's happened. It's completely normal and healthy to share life's highs and lean on others for support during the lows. Talking about death and dying is not to be feared and can help with the grieving process.
Arabella says: "I think it's healthy to talk about death, after all, it happens to everyone. From the day we're born, it's the only other experience we're all guaranteed to go through. The more people talk about it and how they'd like to be laid to rest, the less it's seen as a taboo topic. It's not miserable or morbid to talk about death – it's practical, pragmatic and helpful to loved ones around you to know how to cope, which will help them grieve".
How to Talk About Death and Dying

We want to help you start the conversation about death and funeral wishes so we have put together a few pieces of advice from our Managing Director, Jeremy Field:
Try to talk face to face in a safe, comfortable environment where there are going to be minimal distractions.

If you are sharing new information with someone, it might be helpful to rehearse what you are going to say to them.
Prepare them ahead of time. Tell them that you have something important to discuss with them.
Try to stay calm. Talking about your death and funeral wishes will likely be difficult and bound to stir unfamiliar emotions – both for you and the person listening. If you feel upset, remember it is ok to show your emotions and work through them with your loved one as support.
Understand that there is no right way for someone to react to your news - tears, silence and shock are all possible. Some may not react straight away as they may need time to process this information.
There are many support services and charities who are best placed to advise and guide you through a bereavement. Here you can find a collection of resources to help you make sense of your experience.
Thank you for sharing
Finally, we would like to thank those who contributed to this article by sharing their experiences with us and our readers. It is a brave thing to do, to share something personal of this nature, and we hope it may offer some comfort and insight for those who are going through something similar.
If you require any help or support with your funeral planning, please don't hesitate to get in touch with our empathetic and compassionate family-run funeral directors today.