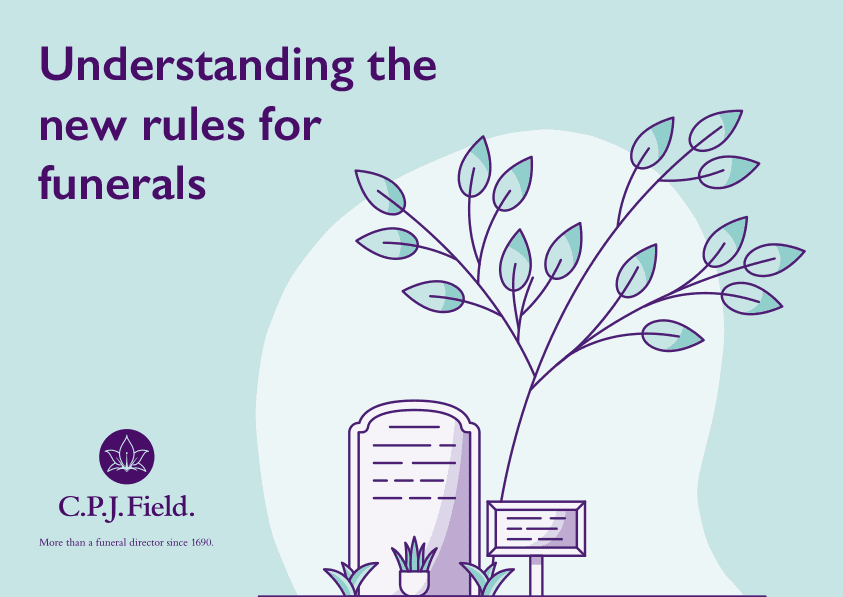 Since lockdown began to ease in England in early July some of the restrictions over funerals and memorial services have been lifted.
Working with people who have been bereaved during the last few months we have seen the deep personal costs of abiding by these restrictions, necessary though they have been. While creative and meaningful ways of remembering loved ones have been found we know how important it is to have clarity over what's possible and what isn't.
While social distancing continues some limitations over funerals remain, so we wanted to share this practical information about what's allowed under the current guidelines:
Who can attend a funeral?
Anyone. While there is a limit on numbers which relates in part to the size of the venue, the rules no longer require mourners to be family.
How many people can go to a funeral?

The exact number depends where the funeral is held.
Services at places of worship are currently capped at a maximum of 30 people.
Crematoriums and crematoria are setting their own limits depending on the size of their chapel and how many people can safely socially distance. In practice we are finding some of these limits to be lower than 30, some a little higher. Individual venues all know the new guidance now and should be able to confirm the exact numbers they can accommodate.
Outdoor ceremonies also have to be restricted to what the guidance calls a "modest" number and these limits are set by each venue in line with social distancing.
Can those who are shielding go to a funeral?

Yes. People who have been informed they are clinically vulnerable or extremely vulnerable are now allowed to attend funerals. Precautions need to be taken to minimise the risk. Please inform your Funeral Director beforehand so we can work with the venue to provide extra precautions such as staying 2 meters apart and possibly wearing a face covering.
What about people with coronavirus symptoms?

Anyone experiencing symptoms of COVID-19 cannot attend. This is defined as either a new and continuous cough, a temperature or a change in their normal sense of taste and smell.
Can someone self-isolating because another member of their household has symptoms attend a funeral?

For the first time the new rules say people who are self-isolating due to either another member of their household or support bubble having symptoms are now allowed to attend a funeral. This also goes for people who have been contacted by NHS Test and Trace and told to self-isolate. Precautions do however need to be taken. Please inform your Funeral Director as soon as possible, we will need to work with the venue to ensure precautions are in place, such as staying 2 meters apart and possibly wearing a face covering.
Can those who are quarantining after being overseas attend a funeral?

Yes. People who are self-isolating having returned to England from a country which is covered under the 14-day quarantine rule can make an exception to attend a funeral.
What are the rules on travelling to and from a funeral?

Social distancing needs to be observed in transport, whether that's in limousines or in individual cars. Our drivers are also taking additional precautions for everyone's safety including keeping windows open for ventilation, cleaning vehicles and handwashing before and after each journey.
Are wakes or other gatherings allowed afterwards?

As every location and venue is different, we advise speaking with your local Funeral Director who will be able to provide up to date information about numbers for wakes and post-funeral gatherings. We can also assist you in organising a virtual gathering with friends and family via Zoom to facilitate the collective sharing of memories after the service. Being present to support friends and family at their greatest time of need is a crucial part of grieving; even a short face to face conversation via the medium of zoom can bring great comfort. If this is something that would like assistance with, please speak to a member of the team or read through our guidance on hosting a virtual funeral reception.
Is there any sign of larger memorial services being allowed soon?

We haven't yet had any indication of when the cap on 30 attendees will be lifted.
Many people who have had to arrange a smaller funeral than they would have wanted, as well as those who weren't able to say goodbye in person, are planning a larger memorial service once that becomes possible. We will pass on news on when this is looking likely as soon as it comes through to us.
This guidance is update as of September 2020 and is subject to change depending on further guidance provided by the Government. To keep up to date with the latest guidelines please head over to: www.gov.uk/coronavirus

Alternatively, if you have further questions about the new rules for socially distanced funerals, please do not hesitate to contact us at info@cpjfield.co.uk