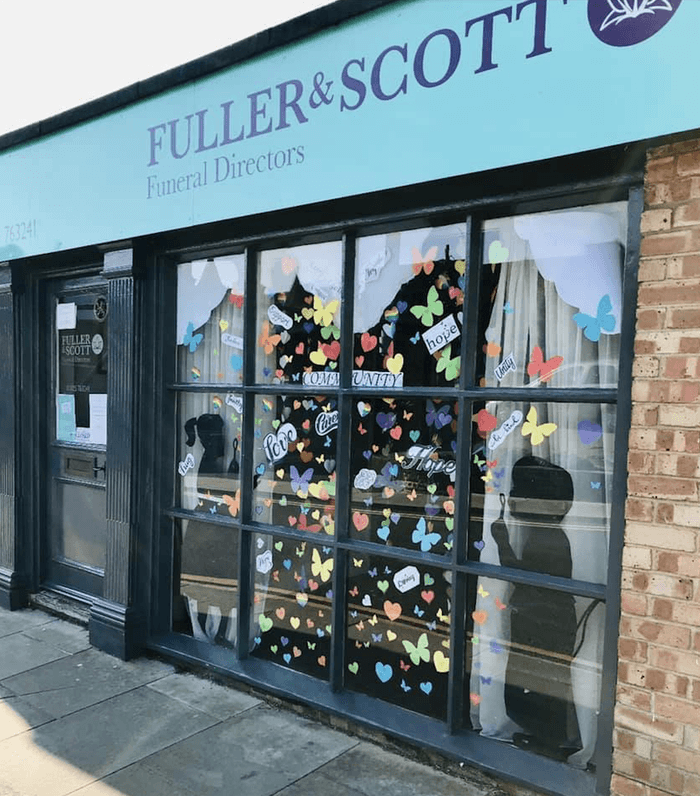 Lockdown and social distancing has had a tremendous impact on our ability to demonstrate the continued level of care for grieving families that we're used to providing. For all that technology has transformed our lives, until March 18th 2020 arranging a funeral was still something best done face to face.
Our conversations are often biographical taking in moments in time, people of importance, places with meaning and so on, which inevitably leads to high emotions. How do you go about comforting someone from the other end of a phone? A video call at least allows you to use your body language to convey compassion, but it's not the same.
A touch on your shoulder or a cup of tea and a biscuit. These are simple kindnesses that we regularly use to reassure grieving people, that are not currently available to us. Somehow setting up a post funeral gathering by Zoom isn't quite the same as putting on tea and cake in the pub.
When lockdown was announced, funerals were exempted from the ban on public gatherings. Subject only to the limitation that attendees can only be members of the deceased person's household, immediate family or, if these are unable to attend, close friends. Funerals could continue in places of worship, but in reality they closed too. Funeral ceremonies are in the crematorium chapel or at the graveside only.
The obvious challenges around managing attendance and concerns about the safety of other people at the venue led to most crematoria and cemeteries putting a limit of 10 on the number of attendees. How do you choose which immediate family can go?
On the day of the funeral we were asked to ensure that social distancing was maintained for those that were not from the same household. In practice that meant policing the behaviour of sons and daughters, preventing them from hugging or touching their parents as they mourned the loss of their partner or spouse. No cuddle for Dad sobbing at the death of his wife of 70 years, no arm around the shoulder of Mum as she grieved the death of her partner of 55 years. The risk of transmission was too high; such human kindness could not be displayed for the good of the rest of humanity.
When we do our work well, we're like an additional member of the family. During the coronavirus pandemic we've felt like witnesses to the cruelness of the situation. The compassion which demonstrates the context of meaning and relevance we try to create, diminished by the rules of shielding, self-isolation and social distancing. Together with the increased number of families we've looked after in a short time, colleagues are tired with burn-out a real possibility. Forcing colleagues to take leave isn't popular but we all need rest.
Yet the human spirit is a resilient thing. It wasn't long into these new arrangements before we were arranging for others to attend funerals, albeit via video stream. Friends and neighbours came into their front gardens and lined the streets to clap as the hearse travelled past them, from the family home, to the place of the funeral. People by the road bowed their head in reverence to the person who had died as the hearse passed by; new rituals for these changed times which helped to rebuild our feeling of doing something positive for bereaved families in their time of need.
Our work in the community ,"Never Alone" gatherings had to stop and the "Forget Me Nots" nursing home exchange initiative was put on hold. At the same time social isolation and loneliness (a cause that we're very passionate about) was becoming more pronounced even than before. Those things we do to try to give back to the communities in which we live and the fulfilment they bring to us and to others were suspended, to prevent the spread of the virus.
Somehow we seem to think more creatively in a crisis and soon our colleagues were organising "Forget Me Not Letters of Kindness" to go to people in nursing homes experiencing loneliness and anxiety, whilst not being able to receive visitors. Delivering boxes of kindness to the amazing people working in care and nursing homes who like so many others in healthcare, have taken the weight of caring for others ahead of their own wellbeing. Weekly zoom bingo and quiz sessions with care homes we'd usually visit and run activities on a weekly basis and 'Afterzoom tea' with families whom we've supported when their world stopped due to grief.
| | |
| --- | --- |
| CPJ Field Community Care Boxes | CPJ Field Letters of Kindness |
It has been emotionally challenging in ways we didn't expect. Anxiety for our ability to work safely. Anxious to ensure the safety of our own families whilst at the same time prioritising the needs of others. Witnessing bereaved people forced to hide away from anyone that could offer them solace. Families unable to comfort one another in the ways that seem so natural until they're taken away. Leaving a family that you've got to know after the funeral ceremony without even so much as a handshake.

By Jeremy Field, Managing Director at CPJ Field