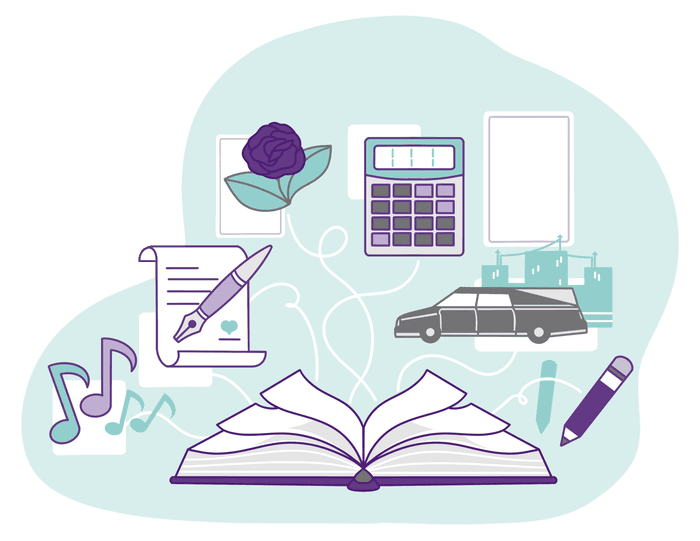 Many people will only plan a funeral once or twice in their lifetime, so planning a successful funeral will require help, advice, and support at a difficult time. Careful funeral planning will ensure nothing is forgotten, and the day is exactly as you wish it to be, creating a fitting send off for your loved one.
1. The First Steps
When someone has died, finding out exactly which first steps should be taken often seems overwhelming, daunting, and unfamiliar.
Regardless of where a person has died, a medical professional will need to verify the death. This can be arranged by contacting a person's usual doctor or GP, who will issue a Medical Certificate of Cause of Death. If the death is unexpected, there may need to be a post-mortem examination to verify the cause of death and a coroner may possibly be involved.
As a family member, you will be closest to the person who has died and will be able to check if there are any funeral instructions in their will. Sometimes a separate letter of wishes may be included. However, this is not always available, so reaching joint agreement between you and other family members will be the best way to proceed with the funeral plans.
2. Choosing a funeral director
At this difficult and distressing time, you may feel overwhelmed with all the choices you are given when planning a funeral.
For many families, funeral planning will unlikely have been top of mind until the time of a death. We understand that time pressures, and a feeling that life is for living makes this step seem unwarranted until necessary. However, thinking ahead of time about how you would like to plan your loved one's funeral, can be beneficial to ease the burden and to be prepared when the time eventually comes.
Choosing a funeral director is often driven by either personal recommendation, convenience of location, or familiarity with the funeral director from another funeral service. This is often the best and most comforting way to make the right choice. On first meeting your funeral director they should instil a feeling of trust. A good funeral director will ask about the person who has died, to understand what made their life unique, before going into detail about the funeral service itself. Their role is to alleviate both the emotional and administrative burden as much as possible, by caring for the deceased person, and leaving you to focus on coming to terms with their death and managing other affairs, family and friends.
3. Choosing the type of funeral
There are many different types of funeral. The type of funeral and the service itself have traditionally been influenced by religious or cultural beliefs. The most common types of funeral include:
A burial service is a ceremony where the coffin is lowered into the ground. It is still a popular type of funeral in this country although cremations have become more commonplace. Depending on your preferences, burials can happen in a churchyard, cemetery, woodland or at sea. Cemeteries are usually owned by the local authority or council, or by a religious organisation such as a church. There are also privately-owned burial grounds.
A cremation is a process by which the person who has died is turned to ashes. The cremation takes place at a crematorium, where you can also have a funeral service. Should you prefer, the funeral service can be held elsewhere and then a shorter service, called a 'committal' is carried out at the crematorium. In the case of a crematorium service, the pallbearers or family members and friends if desired, will carry in the coffin and the service will commence. Once the cremation is complete, a member of the team will contact you to arrange for collection of the ashes and further arrangements can then be made for dispersal or ashes keepsakes and memorials.
Direct Burial or Direct Cremation
Some people choose a funeral for their loved one which does not involve any ceremony or ritual. It is a simple, no fuss way to carry out a burial or cremation at minimal cost with no mourners present. After the direct burial or direct cremation, some celebrations can be arranged such as memorials at a later date. In our experience, these funeral types can leave families with the feeling that they were unable to say a 'proper' goodbye, with no formal occasion to draw closure with family and friends and no opportunity for collective mourning of the life no longer lived.
4. Funeral Costs
Meeting face-to-face with your funeral director is always advisable to feel supported and to understand the choices available to you. Sometimes the menu of choice feels overwhelming, but a good funeral director will explain everything from the simplest service on offer through to more elaborate funerals depending on your individual preferences.
The cost of a funeral will include the funeral directors' fees, third party costs such as burial or cremation fees, and added extras which help personalise your funeral such as flowers or limousines.
At CPJ Field, we are transparent with all our services that relate to pre-planning and the day itself. All our services are carefully itemised and carefully costed to include guidance, expertise, and administrative support from a team of trained funeral professionals.
A funeral director's fees cover a variety of services from liaising with the hospital or hospice, to booking a venue, or speaking to the florists to arrange the delivery of tributes on the day of the funeral ceremony. Always check what is included in your costs and ensure that the funeral director's contract with you is both detailed and fully comprehensive, so that you are receiving exactly what you wish for at your funeral service.
5. Arranging the Funeral Service
Not only will a funeral director give advice and support, but their key role is also to organise the day exactly as you wish it to be. CPJ Field prioritises planning and arranging funeral services which reflect how every life is unique. For us, it is the individual that we truly care about and it means everything to us to be able to deliver a personal service that is reflective of a life well lived. We take immense pride in the meticulous level of detail, care and commitment that goes into making every funeral we deliver memorable.
Arranging the funeral service includes setting the date, and if preferred, placing a notice of death in the local or national newspapers. The next stage addresses all the small details. These can range from choosing who will deliver the eulogies and readings to choosing the coffin or casket. Other arrangements include making music selections and selecting a hearse or other transport options.
You will also need to decide if you wish to hold a wake. A wake can be private or public, such as held at a family home or at a public venue. Sometimes a smaller wake is held, only open to family members or close friends.
6. After the Funeral Service
Once the funeral service is carried out, there may still be many questions around what is still needed to be done following the funeral day itself; from the administrative legacy details, to creating a physical book of condolence and photo messages.
We remain by your side after the funeral, to guide you through the difficult weeks and months to come. When the service is done and the phone stops ringing, we remain committed to supporting families with advice on how to scatter ashes, on memorials or tributes that they may wish to create as a permanent memory of their loved one, or connecting them with one of our Never Alone support groups, so that they may seek comfort from others in a similar position. It is all part of the completing the funeral planning process and most importantly continuing to remember.
For more information on planning a funeral and our services, please see our Planning a Funeral page.