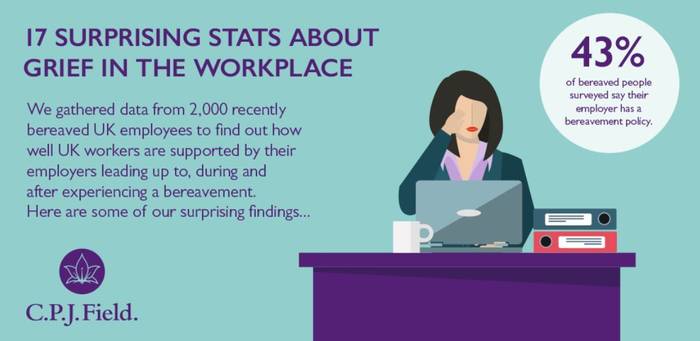 A new study commissioned by CPJ Field has revealed that grieving employees are not being supported at work, both immediately following a death and in the weeks beforehand. The study involved interviewing 2,000 recently bereaved UK employees.
Of these recently bereaved people, 43% say their employer has a bereavement policy, so most either haven't defined the support they can offer, or haven't made staff aware. Employers are also failing to support team members in the time leading up to a death as they experience what is known as anticipatory grief, which involves coming to terms with the impending death and life without that person. Only 22% of those supporting a close relative through a life-threatening illness or injury were given flexible hours.
Other policies such as granting employees the ability to work from home and short notice holiday allowance, is explored further in this study. How bereavement is handled at work and its implication for staff retention is also investigated.
Take a look at key findings from our survey in the infographic below. Why not share this with your senior teams and find out how they support their staff in times of bereavement?

Read more about the importance of supporting staff when someone they care about has passed away. We've put some information together for you as part of our campaign to help companies improve grief support.
For any further information or support on any of the above please contact us.