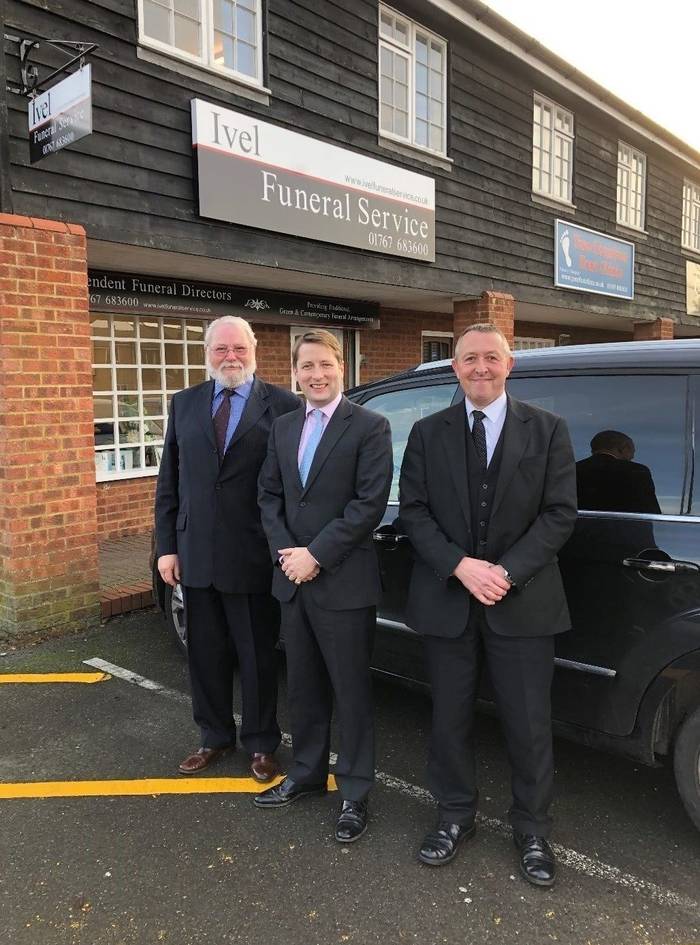 Family owned funeral directors, CPJ Field, announces the acquisition of Ivel Funeral Services in Sandy near Bedford. Ivel Funeral Service will join with Shires Funeral Directors, also part of CPJ Field, which operates in Bedford, Kempston, Baldock, Letchworth, Luton and Dunstable.
Under the guidance of Principal Funeral Director, Chloe McKnight, supported by colleagues from across the region, Ivel Funeral Services, now renamed Shires Funeral Service, will offer the unique approach to care for the bereaved that CPJ Field has developed over its 329-year history. This approach blends care and support for bereaved families with the creation of meaningful ceremonies to mark the unique qualities of the life that has passed.
Ivel Funeral Service was founded in 1985 by Gordon Goodwin, a former Mayor of Sandy, and run in partnership with Graham Rowley.
Supporting the communities in which we serve is a core business value to CPJ Field, and Chloe along with the team at Shires are hosting an open day on Friday 20th September for all members of the public, local charities and businesses to attend. It will be an opportunity to meet the team, discuss opportunities for collaboration and ask the questions you've always wondered about but never had the opportunity to broach. The open day will run from 10am – 4pm.
Charlie Field, Deputy Chairman of CPJ Field, said: "We are delighted to welcome Ivel Funeral Services to our family Company. It was a privilege to be asked by Gordon and Graham to take on the business, and carry forward their hard work. All of us at CPJ Field send our very best wishes to them both of a long and happy retirement."
Chloe McKnight, Principal Funeral Director, added: "We are looking forward to building our relationships with members of the community in and around Sandy. Our focus is on providing excellent support and care to bereaved families as they are coming to terms with the loss of a loved one, recognising that every life is unique."
-ENDS-
About CPJ Field
CPJ Field is a leading family funeral service provider, which operates funeral homes across East and West Sussex, Surrey, Kent, Dorset, Buckinghamshire, Bedfordshire, Hertfordshire and South London. It is the UK's eighth oldest family business.
In 2015, the business celebrated its 325th anniversary, its origins and heritage date back to the late 1600s. Over the past three centuries it has been actively owned and managed by the Field family through ten generations and has assisted with the funeral arrangements of monarchs and national heroes such as the Duke of Wellington, Queen Victoria and King Edward VII.
CPJ Field's funeral homes provide the highest standards of care and commitment offering a range of bespoke services such as funeral planning, funeral prepayment plans, legal services, flowers, monumental masonry and international repatriation. Professionally trained and compassionate staff guide customers through what can be a stressful and highly emotional time.
For more information, please contact:
Suzy Bennett, Fugu PR
T: 01273 327514