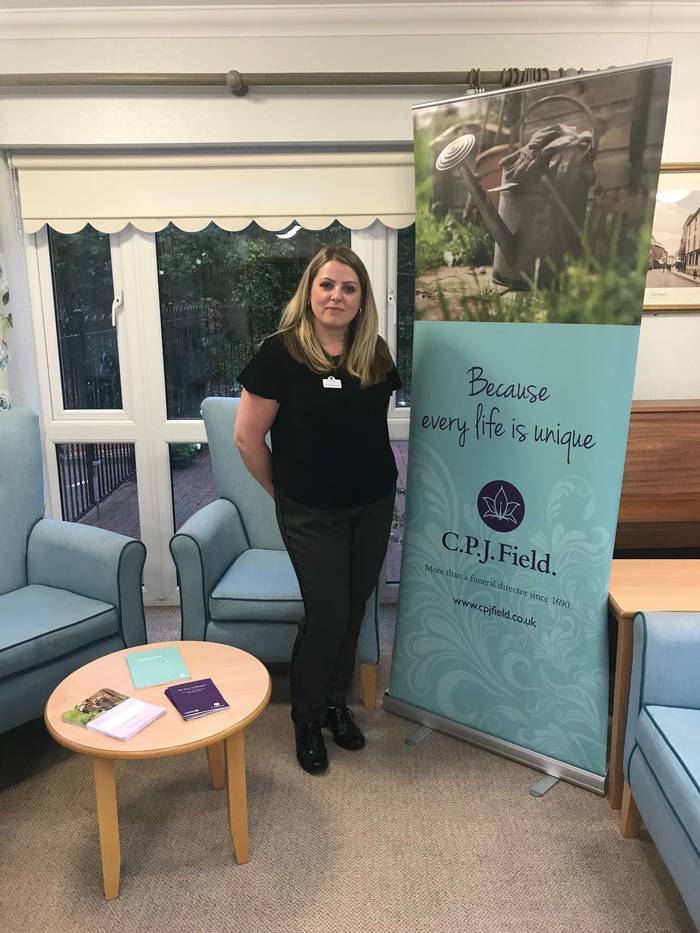 Funeral Arranger & Community Champion
My name is Donna Kennett and I work for Shires Funeral Directors, from our funeral home in Whitehorse Street, Baldock. We have six other funeral homes located in Letchworth, Bedford, Kempston, Luton, Dunstable & Sandy.

People are often surprised when I tell them where I work, but I have always worked in Customer Services. Back in 2006, I was working for the local Council and at times it was a struggle to provide good service to every customer due to the volume of calls and queues. It was hard to deal with clients that were about to become homeless with your boss in the background tapping her wrist, basically telling you to hurry up as other customers were waiting. Me being me, I ignored her as I knew that the customer I was dealing with had a greater need than someone who wanted to submit their plans for an extension. Spending an extra 5 minutes with them was what customer service is all about, it's about making a difference.
One day an elderly chap came in with his son, needing help with his council tax and like the elderly often do, started talking and joking about. He mentioned that he's very lonely at times, so I told him I live down the road and if he ever wanted a cup of tea, top pop in - and to my surprise, he did!! A few years later I left the Council and he continued to come every Sunday for a cuppa and chat and it slowly progressed to me taking him shopping, to the doctors and even to hospital appointments.
In 2011 he went into hospital for an operation and died. I was, devastated. He was such a lovely chap and my kids loved seeing him and hearing all his stories from his youth. It was great for them to hear what it was like 'back in the old days.' I spoke to his sons after his death and was touched to know that he'd told them about me and the children. When I asked if I could go to see him in the funeral home, the answer was, "of course!" Everyone I spoke to in the village all had great stories about him and it turned out he used to visit several families for a cuppa on different days!
Although the lady at the Funeral Directors was lovely and I was given time during the visit to be with him, I was a little upset that he didn't have any teeth in and his hat that he always wore wasn't there with him, nor was his cane.
Little did I know that a few years later I would always make sure these little things were in place to make that last visit for a family a little easier to bear.
When the vacancy for a Funeral Arranger was advertised at CPJ Field, I applied and here I am almost 7 years later, in a job I absolutely love. I'm able to go above and beyond the expected levels of customer service, which is just how it should be. Four years ago, I was given the role of Community Champion for Shires, which allows me to attend local events, charities and exhibitions and to engage the local community in a number of appeals we run throughout the year.
We've raised several thousands of pounds for local and national charities, made cakes, cups of tea and coffee, donated countless bags of clothes for charity appeals, Easter Eggs to children's centers and completed sponsored walks, to name but a few. We also run a book club for the bereaved at our local church.
CPJ Field actively encourages people to discuss all matters surrounding death, dying and funerals. We use the hashtag #TackleTheTaboo to encapsulate these messages. We are continuously encouraging members of the local community and beyond to start the conversation and to begin to talk about all things surrounding later life planning. Sadly, it seems as though we only start to think about our own plans when we are forced to make decisions about someone else's.
I feel very privileged to be able to work with families at one of the saddest times of their lives, to help make a difficult time that little bit easier, and to treat their loved ones how I would want my family to be treated. I've been in our Chapel of Rest reading goodbye letters, described the flower arrangements, read condolence cards to them and on the day of the funeral - I stand outside our office until the funeral procession has passed. I've sat with clients while they are choosing photos for an obituary notice or order of service and have ended up laughing with them as they share their memories, thank goodness for waterproof mascara!
We are not about making an arrangement as quickly as possible and moving on to the next, we are about finding out what that person was about, what and who they loved, the music they listened to and their favourite places. All of these pieces of a person's life enable you to make sure the funeral you arrange is as unique as they were. We also believe that our role continues well beyond the actual day of the funeral, and we continue to provide support to our families for as long as they need.
Grief doesn't stop once the funeral is out of the way. When the letters and phone calls stop, that's when then the reality and sometimes isolation sets in. For many, visiting colleagues at the funeral home allows them to continue that connection with their loved one who has passed, and our door is always open for a cup of tea and a chat.
People tell me they could never do my job as they couldn't cope with the emotion of it all, but I think this helps as it makes you more caring and compassionate.
We pride ourselves on being 'More than a Funeral Director' and go to all lengths to deliver whatever makes the celebration personal to the individual. If you were to ask me why I choose to do what I do, for the company that I work for, this is the very reason because every life is unique…
We pride ourselves in delivering the best possible service for the families in our care. If Donna's story resonates with you then please get in touch.