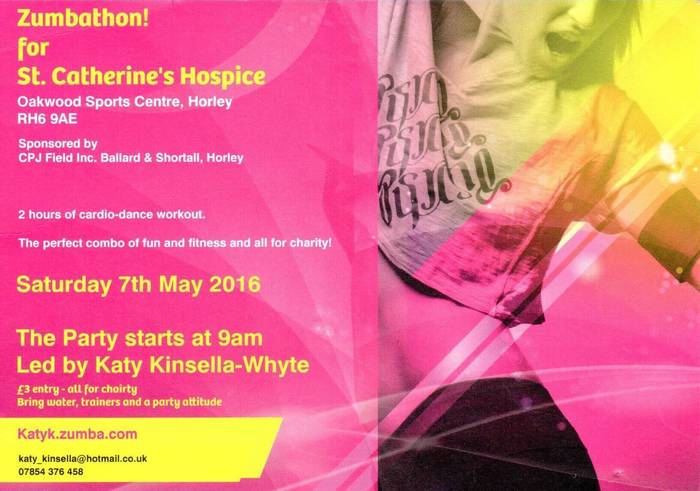 CPJ Field Ballard & Shortall, Horley, is sponsoring a Zumbathon on Saturday 7 May 2016 in aid of St Catherine's Hospice and is calling on the people of Surrey to come along, get involved and help raise money for a great cause.
The popular dance-inspired aerobics workout will take place at Oakwood Sports Centre in Horley. Beginning at 9am, the class will last two hours. The event is open to all levels and there is no need to book. All money raised from the £3 entry fee will be donated to St Catherine's Hospice.
Funeral director, Karen Everest-Dowden, from the funeral home will also be donning her lycra and trainers to take part in the cardio dance workout. Here, she comments: "We're so pleased to have the opportunity to sponsor such a fantastic event. St Catherine's Hospice is a well-loved local charity that offers comfort and support to so many people during what is often the worst period of their lives. This event is the perfect mixture of fun, fitness and charity raising, so there is every reason to get involved."
Fitness coach Katy Kinsella-Whyte, daughter of CPJ Field funeral director Karen Everest-Dowden, will lead the Zumba session. She says: "We're so excited about this event. It's a great opportunity to get fit and raise money for a great cause. Everyone is welcome, all we ask is that you bring along some water, trainers and a positive attitude."
The money raised from the Zumbathon will help St Catherine's Hospice continue its vital work, supporting members of the local community affected by serious illness and providing palliative care to people facing conditions such as cancer and heart failure.
For more information about the Zumbathon contact the branch, Ballard & Shortall, Horley on 01293 820 377. For more information about St Catherine's Hospice, please visit: www.stch.org.uk.
For more information, please contact Alice Baker or Bex Bahri at Westgate Communications on 01732 779087 or cpjfieldpr@westgatecomms.com