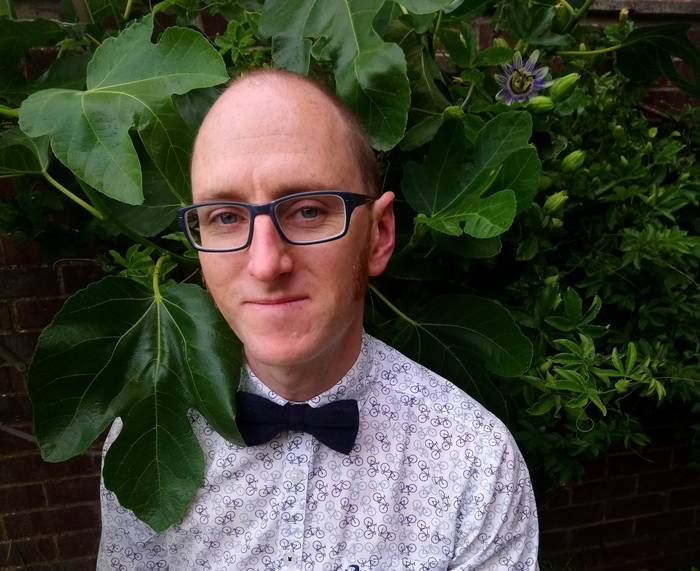 In my garden grows a fig tree. When I bought it about 5 years ago it was around 2 feet high, its home nothing more than a plant pot in a small nursery. It wasn't the most handsome tree to look at. There was no mighty oak in its appearance or the shapeliness of a silver birch. Figs on the whole are scrawny looking creatures - if they were human, they would be all spindly knees and elbows. This particular fig had a combined number of three branches, two leaves and one small, withered fruit. I took it back to my then home and re-housed it in the garden, where it looked like a vagrant who had set up camp in the shade of a eucalyptus, which loomed over it in a disapproving manner.
Then, I was working for Tesco. My position as Team Leader had, a year before, been deemed superfluous within the company, and to make up my loss of earnings, I had chosen to move to nights. It was a difficult time - adapting to the shift pattern was a tough mental challenge. Going home from work in the morning and returning later on the same day is a peculiar concept to grasp. The usual way of living gets somewhat uprooted and turned on its head.
But figs do not grow well in the dark. I felt stifled and stunted. I needed to find something new. I needed to feel the full sun on my limbs and perhaps a new garden to flourish in.
I remember considering the funeral industry when looking for a new job. Not out of any kind of experience, for I had none. To be honest, it was the uniform which attracted me! You don't often get the chance to professionally wear chauffeur caps, waistcoats and striped trousers. The flower of a Fig tree is hidden from view. Deep down they yearn to parade their blossom! Also, having traipsed through the gloomy woods of retail for six years, the funeral sector seemed a place where I could do something more worthwhile.
Then a chink of light appeared through the canopy. I saw the advertisement for a Chauffeur Bearer (pre FSTM days) for CPJ Field (Heritage & Sons) in the far flung wilderness of Winslow. It wasn't quite an unmapped terrain for me; my wife had family in a neighbouring village and I had made the huge forty minute hike on numerous occasions. I applied for the role and a week later, received a phone call from the mighty oak himself, Mr Nicolas Ross-Hamilton. One interview later and a wait of several days, and I had been offered the job. Like a tendril climbing its way out through the forest roof, I grasped the opportunity.
Back in my garden, progress was being made. My fig was much happier. Its dreary days in the nursery were behind it. It was living the fig equivalent of 'The Dream'. It had its own patch. It had some beautiful forget-me-nots as neighbours. Even the eucalyptus had made its peace with it. Though Autumn was spreading its amber fingers over everything sylvan, there was a renewed hope for the upcoming Spring. The fig's leaves may have been heading down, but everything was generally looking up.
I gaze back to those first weeks at Heritage & Sons with fondness. It was a honeymoon period that went far into October and beyond. I was once again out in the light, not working the unnatural shifts of the night. I threw myself into everything. Like a passion-fruit plant, I grasped hold of every opportunity to learn and grow. The role of Chauffeur Bearer was a wide-ranging one. When I was in the 'yard' (a somewhat loose term suggesting our yard is the size of a county), I was trundling off around Buckinghamshire with my guide, Barry. I had never been south beyond Winslow's bucolic borders before, and under Barry's watchful wings, we traversed the sprawling, unruly ant hills of Aylesbury, the affluent aesthetics of Wendover and further on to the sunnier climes of Amersham-on-the-hill. There were hospital transfers. There was mortuary work, coffin making, car cleaning and maintenance and digging ashes plots; each with their own varied aspects to get the hang of. Every day I was meeting someone new. Every week I was spreading my roots deeper into the different nooks and crannies of the funeral industry.
Autumn passed into Winter. Those seasonal chills and shivers represented my early nervousness. I shook like an aspen when first carrying a coffin. Fortunately my driving debut in the limousine, though nerve-wracking, went well and I stuck to the back of the hearse on the journey to the crematorium like a long, black limpet. By Mid-Winter I was warming to my work, even if the weather was not. I was added to the on-call rota and was soon experiencing the 'joys' of being woken up at ridiculous o'clock. But sometimes you have to eat rough peanut butter instead of the smooth. A bit of hardship makes you appreciate the pleasurable things all the more.
Change, though, was in the air. The longest night had passed. My fig watched, silent and naked, (with not even a fig leaf to hide its modesty) as each morning slowly brightened earlier. It knew Spring was just around the corner, or possibly hiding behind the eucalyptus. But there was something it wasn't expecting. One weekend in late February found a chauffeur-bearer standing in the garden with a cup of earl grey, a shovel and a calculating expression. What my fig must have thought when that implement began to dig it out of its home, I can only guess. If it had a mouth then probably it would have shouted for the help of a sycophant, which although today means 'flatterer', originally meant 'an informer of fig smugglers' in ancient Greece. But I was by no means smuggling it away, or indeed flattering it. I was moving house, which meant most of my garden had to come too.
Our new village just outside Winslow was perfect for commuting to work. My three speed bicycle was able to take me there in just over ten minutes; my one speed legs in just over thirty. It was sad for the fig to leave the eucalyptus behind, but it was time to step out of that tree's shadow and branch out. Besides, the eucalyptus kept on dropping its bark all over the place. There is only so much mess a fig can put up with. However, there was certainly nothing cluttered about its new garden. It was bigger, for one thing. There was even a wall to shelter it from the wind. It adapted well to its new diet of clay soil and swiftly began to make itself at home.
Within CPJ Field I was also beginning to feel comfortable. Though there were many other branches outside Heritage & Sons, there was still a close, family feel to the company. I had travelled down in a limousine to Deric Scott in Bournemouth and been welcomed with wide open, sandy arms. In the hustle and bustle of London, Edmund and Son helped me navigate the rat runs and rhinoceros roads of that incomprehensible city. Our good Hertfordshire neighbours, Shires, were ever a constant companion. My training down in East Grinstead with Ballard and Shortall and further down in Eastbourne with Haine and Son highlighted the close connection all of the CPJ Field branches share; we all want to help the families we serve. In Heritage & Sons we had a few changes in our team, but the ones that stayed and are still here, are the kind of people I have recognised all across CPJ Field. For me, I began to see that this was no ordinary company, no owners of a business that employ workers who see their job as a means to an end. This was the kind of company that, during those endless nights stacking endless shelves, I had always wanted to work for.
Today my fig is wonderful. Though it hasn't a eucalyptus to look up to, it instead looks proudly out onto a newly planted herb garden, vegetable patch and some other friendly fruit trees. It is even housing a passion fruit in its branches. It likes to watch things grow. It is a very supportive tree. The ants are a bit of a pain, but, well… peanut butter.
For me, my personal growth has gone hand in leaf with my fig. Along with my FSTM responsibilities, I am now also the deputy Funeral Services Manager, when the mighty oak, NRH, strides off somewhere on his holidays. I have recently represented the FSTMs in Heritage & Sons as part of the 'Brilliant Branches' training and am currently closely involved in the new 'Mentor Scheme'. Unfortunately, the company have given me free reign with my pencil, and my cartoon daubings have furtively found their way into the CPJ Field newsletter. In return for this impudence, CPJ Field very kindly sponsored a poetry evening I co-founded in my village, printing out posters and supplying mementos which were handed out to all the participants. Before joining the company, the thought of standing up in front of a hall full of people would have had me shaking like an aspen again. Now, I am able to read out my poetry to all and sundry, whether they like it or not.
Interestingly, to me, if to no one else, my fig has yet to produce any edible fruit. But it still tries its best. All of us at CPJ Field do. We all make a difference.
In the words of Nick Drake:
"Fruit tree, fruit tree,
Open your eyes to another year.
They'll all know
That you were here when you're gone"
Patrick Bartley - July 2019