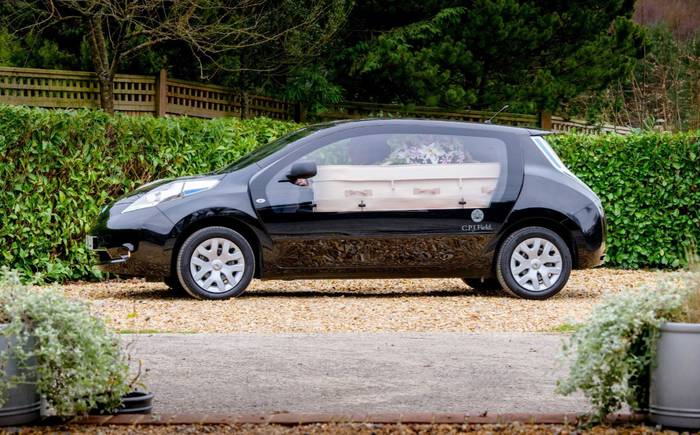 Family-run funeral director CPJ Field has invested in an electric hearse to offer its clients an environmentally friendly option that is also lower cost. The car, which is a modified Nissan Leaf, is the first electric powered hearse to be available in Brighton. It is now being offered alongside CPJ Field's more traditional modes of transport and the business aims to switch the rest of its fleet to electric vehicles by 2024.
Electric hearses, which help reduce emissions and protect air quality, are just one step in CPJ Field's drive to make responsible changes in light of climate change. The company already offers green funerals and alternatives to timber coffins, such as those made with wool, as well as only using wood from sustainable sources. What's more, £25 is donated to Groundwork UK whenever a standard funeral service is conducted that could create any CO2 emissions.
Electric hearses have benefits for customers too. As the costs to run them are notably lower than a traditional hearse, the savings are passed onto customers with lower hire fees. Customers can hire the Nissan Leaf for £395, compared to £478 for a traditional hearse.
The car, commonly known as the 'Eco-Hearse', has a sleek design and is coloured in a traditional black. With the passenger's side doors being replaced by glass, bystanders have full visibility of the coffin and flowers as with a traditional vehicle. It is also near silent in operation.
Charlie Field, Deputy Chairman at CPJ Field comments: "We're pleased to now offer a much needed eco-friendly alternative to the traditional hearse. As a 300-year-old family business, we take a long-term view in everything we do and have a responsibility to future generations, as well as caring for the living and the dead now. We're always looking to innovate and give our clients choices that enable them to fully reflect the values of the person who has died.
-ENDS -

About CPJ Field

CPJ Field is a leading family funeral service provider, which operates funeral homes across East and West Sussex, Surrey, Kent, Dorset, Buckinghamshire, Bedfordshire, Hertfordshire and South London.
In 2015, the business celebrated its 325th anniversary, its origins and heritage date back to the late 1600s. Over the past three centuries it has been actively owned and managed by the Field family through ten generations and has assisted with the funeral arrangements of monarchs and national heroes such as the Duke of Wellington, Queen Victoria and King Edward VII.
CPJ Field's funeral homes provide the highest standards of care and commitment offering a range of bespoke services such as funeral planning, funeral prepayment plans, legal services, flowers, monumental masonry and international repatriation. Professionally trained and compassionate staff guide customers through what can be a stressful and highly emotional time.

For more information, please contact:
Ruby Short, Fugu PR
T: 01273 327514